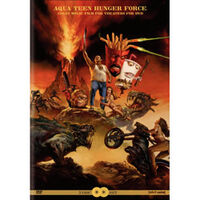 Packaging Design
Edit
On the outside of the box on the front cover is the movie poster artwork. On the back is the listing of all the DVD's features, first typed then handwritten notes and sketches drawn in.
On the DVD discs, there is an image of a cavewoman on a motorcycle (Disc 1) and Disc 2 resembles a blank burnable disc.
Special Features
Edit
Theatrical Trailer
Sizzle Reel
Behind the scenes
Art/music gallery
Jon Schnep 3D
Dana Snyder/ Bob Odenkirk interview promos
Commentary
Deleted Movie
Fake Endings (10)
Deleted scenes
Music Videos
Pete Promos
Easter Eggs
Edit
External Links
Edit
Ad blocker interference detected!
Wikia is a free-to-use site that makes money from advertising. We have a modified experience for viewers using ad blockers

Wikia is not accessible if you've made further modifications. Remove the custom ad blocker rule(s) and the page will load as expected.