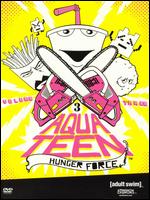 Packaging Design
Edit
The DVD comes in an outer cardboard box. The front of the box has the "chainsaws" Aqua Teen logo and features the Mooninites.
The back of the box lists all the episodes at the top and all the special features at the bottom, and has artwork of the Aqua Teens on the right side.
On the folder that holds the DVDs, on the outside is a painting done by R. Land. Inside there is a list of all the DVD tracks and clay art of the Aqua Teens. On each DVD is scribbled artwork of the Aqua Teens. Behind each DVD is text from an article called "A Heavily Researched Look Behind the Scenes of Aqua Teen Hunger Force".
1. Frat Aliens 2. Total Recarl 3. Kidney Car 4. Revenge of the Trees 5. The Cloning 6. Broodwich 7. The Dressing 8. The 9. The Cubing
10. The Last One 11. The Clowning 12. Spirit Journey Formation Anniversary 13. The Shaving
Special Features
Edit
Commentary on: The Last One, The Clowning, Spirit Journey Formation Anniversary, and The Shaving.
Deleted scenes: Broodwich, Dr. Weird Ice Cream Social, and Dr Weird Clowning Ending
Making of The Cloning
Spirit Formation Journey Anniversary Music Videos: Atlanta, New York, Now You Try.
Schooly D Music/Art Gallery
Script Pages: Spirit Formation Journey Anniversary Script, Last One Script, Frat Aliens Script, The Dressing Script.
Answering Machine Messages
Promo Spots (11)
Easter Eggs
Edit
External Links
Edit
Ad blocker interference detected!
Wikia is a free-to-use site that makes money from advertising. We have a modified experience for viewers using ad blockers

Wikia is not accessible if you've made further modifications. Remove the custom ad blocker rule(s) and the page will load as expected.