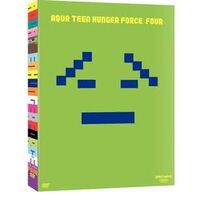 Packaging Design
Edit
The DVD comes in a folder within an outer cardboard box. The box front has Ignignokt's face on it, and the back has pixelated-style DVD listings and small pixelated Aqua Teen characters at the bottom.
On the DVD folder is more pixilated art related to the DVD's episodes, such as images from Video Ouija. Inside the folder is Err's face. Where the DVDs fit in is a pixilated/drawn art collage of images from the episodes on the DVDs. On the DVDs are Meatwad (Disc 1) and a striped background (Disc 2).
1. Video Ouija 2. Unremarkable Voyage 3. Mooninites 3: Remooned 4. Gee Whiz 5. Edork 6. Little Brittle 7. Robositter
8. Mooninites 4: The Final Mooning 9. The South Bronx Parasite Diet 10. Dusty Gozangas 11. T-Shirt of the Dead 12. Hypno-Germ 13. Spacegate World
Special Features
Edit
Commentary on: Video Ouija, Unremarkable Voyage, Gee Whiz, Edork, Little Brittle, Mooninites 4: The Final Mooning, Dusty Gozangas, Hypno-Germ, and Spacegate World.
Funny Pete Stuff
San Diego Must Be Destroyed 2004
Spacecataz
Raydon
F-art
The Faces in Front of the Throats That Make the Voices That Speak Into the Microphone
Send Us Money for This
Easter Eggs
Edit
External Links
Edit
Ad blocker interference detected!
Wikia is a free-to-use site that makes money from advertising. We have a modified experience for viewers using ad blockers

Wikia is not accessible if you've made further modifications. Remove the custom ad blocker rule(s) and the page will load as expected.